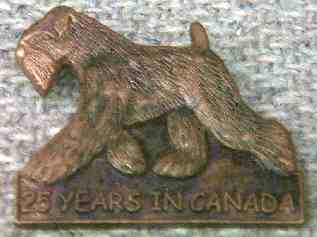 1 1/8" Die Struck Raised Fine Enamel with Antique Gold Plating
The Assiniboine Soft-Coated Wheaten Terrier Association (ASCWTA) is making available a limited number of these beautiful collector pins as part of a fund raiser for our National Specialty that was held here in Regina, Saskatchewan last June. As it happens, this year also marks the 25th Anniversary of the first issue of the Soft-Coated Wheaten Terrier Association of Canada's publication Wheaten Wags. What better way to celebrate than by wearing one of these pins!
Help us celebrate the 25th Anniversary of Wheaten Wags by purchasing one (or more) of these beautiful anniversary lapel pins. We still have a small number of these pins available for immediate delivery. Don't be disappointed, order yours today.
Pricing: $7.00 per pin ($1.00 of this will be going toward Wheaten Health Research)
plus $1.00 shipping and handling per order of 5 pins or less.
Remember, there is a VERY limited supply. Don't delay, order yours today.
Pins will be sold on a first come first served basis.
Send your order along with your name,
mailing address and a cheque or money order payable to the ASCWTA to:
SCWTAC Anniversary Pin
74 Cooper Crescent
Regina, SK S4R 4J7
and yes, we do accept cheques or money orders made out in US funds.
Please include your email address so we can
keep you informed regarding the status of your order.
For more information or questions